Contact US
Midland Aviation
Abbeyshrule Airfield
Co. LongfordIreland
+353 (0) 44 9357468
+353 (0) 87 2260418
Aircraft Maintenance
Midland Aviation specialise in the maintenance of most GA light aircraft—both singles to twins—so we know how important it is for owners and operators to be sure of quality workmanship with minimum time on the ground.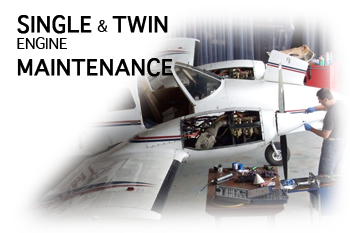 Our prices are competitive, and we offer standard times for most scheduled inspection work. We have the approvals, experience and equipment to maintain airframe, engines and avionics. We can maintain a wide variety of modern, vintage and home built aircraft.
Our service
We maintain aircraft from top Irish flying school, for whom a practical and efficient approach to maintenance is essential. You'll find we're a highly professional team, geared to meeting the exact needs of our different customers—whether commercial or private. We understand the different requirements of our customers, whether commercial operators such as flying schools, or private owners. We work hard to make maintenance and repairs as painless as possible—using our unique software to maintain technical records and maintenance schedules, pre-ordering or exchanging parts, and arranging pick-up and delivery of aircraft and pilots if required.
We adapt to your maintenance schedule
Whether manufacturer's or operator's schedules—we aim to make repairs as time- and cost-effective as possible for you. We use our advanced software to maintain technical records and maintenance schedules, allowing us to pre-order components or ensure we carry the items in stock ready for a quick turnaround.
Aircraft collection and delivery
We can also arrange the collection and delivery of your aircraft and pilots if required—whatever it takes to maximise your convenience and minimise your time on the ground.
Looking after you and your budget
All maintenance is under our EASA Part M/G approval and carried out by licensed engineers and experienced mechanics. But while we take care of quality, we're careful with your money too, with fixed times for scheduled inspections and all defect work agreed and approved by you. We also have access to a huge number of suppliers throughout the world, which enables us to source the right parts for you at the right price, at the right time.
All inspection
Our services range from minor defect work and small scheduled inspections, to complete refurbishments and insurance rebuilds. With our highly experienced team, in operation since 1978, we can handle all sizes of GA.
Current trained licensed engineers
You can have complete confidence in our work because of the qualifications and experience of our licensed engineers and aircraft mechanics. Visit us to see our facilities and meet the team.
Maintenance control program
The time and money we've invested in advanced software brings huge benefits in efficiency for us and our customers. We can see detailed maintenance records of aircraft under our control in seconds, and so can you. Maintenance requirements are predicted and scheduled in—even taking account of the different dates for aircraft and components. This helps you stay flying, while meeting your maintenance requirements.
Continuing airworthiness management organisation (CAMO)
Our EASA Part M Sub-Part G approval means that we are authorised, after a satisfactory inspection of an aircraft, to issue an ARC (Airworthiness Review Certificate), which is an annual requirement. For an owner, a contract with a CAMO makes this a straightforward process.
Where to find us
Abbeyshrule Airfield (EIAB), Co. Longford - in the heart of the midlands
Cork International Airport (EICK), Co. Cork - International gateway to the south of Ireland.
Contact Us
We can maintain a wide variety of aircraft and equipment, so please contact us.